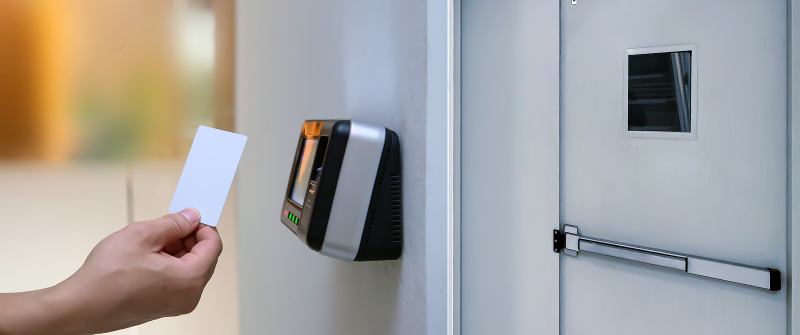 31 Dec
Why You Need an Access Control System for Your Business
Security is the most essential component of any business. Every business store something important that needs protection, so protecting your business should be a priority of yours. As a business owner, you may be looking for ways to upgrade your security system and we are here to tell you about a great solution for this- access control systems.
What Is An Access Control System?
An access control system is a security measure that restricts access to certain parts of a place or a building. It is very easy to use because they don't work in a traditional manner and you can control it remotely. In this article, we will go over some of the advantages that come with access control systems.
Main Parts of an Access Control System
First, let's talk about what an access control system includes that protects your business. Every access control system has fundamental components like
Automated Door Control
Notifications
Alarms
Access Control Keypads
Access Control Panel
Card Readers
Badging
Vehicle Tagging
Forget Keys!
The first main advantage an access control system offers is the non-traditional methods. When it comes to businesses, security is the key. So, even when a single employee loses a key, a business owner should replace all the keys. However, with access control systems, if an employee loses a card, you can remotely deactivate the card and make a new one without having to replace every single card. As a business owner, this saves you time and money.
Record All Activity
Wouldn't it relax you to know what goes around in your business all the time or have the luxury of looking at the tracks of activity in your business place whenever you would like? We know that this would relieve one's mind a great deal. With an access control system, you can keep track of every activity that goes on in your business.
Limit Access Times
Do you want to restrict the time period your employees can access your business? With just a few clicks, you can arrange the access periods and ease your mind.
Limit Access of Employees
Of course, as a business owner, you may not want everyone who works in your office to have access to all parts of the office. For example, you may have certain hazardous materials and chemicals that you store and wouldn't want someone who is inexperienced in how to handle those to have easy access to those areas. Therefore, you may want to limit access to only certain professionals or employees. Well, with an access control system, you can limit this easily.
Reduce Theft
Did you know that about $50 billion are lost every year because of employee theft? It is only natural for a business owner to want to eradicate employee theft. With a high-security access control system provides, you will know who enters your business at all times and therefore can prevent these types of events.
Increase Security
If you want to increase the security of your workplace and monitor your staff and guests, using access control systems is a great option. Do you need access control system installation in your workplace? Contact the professionals of Smart Pro Locksmith today to ease your mind and create a safe work environment. Our reliable locksmiths are waiting for your call.